Deconstruct In Search of New Front-Man!
The story runs deep with Deconstruct. An aggressive, in your face, heavy rock/modern metal band comprised of the brutal, grungy groove oriented guitar riffs of Joe Fraulob (ex-Danzig), the powerful, deep, head-spinning bass lines of Bobby Real (ex-Dedvolt), the bone crushing drums of Tom Frost (ex-Luxt) and vocalist MC Droze's intense growling and often melodic vocals. Yeah, this band has got it going on … A solid timeline of success, expanded musicianship and continually evolving into a "Post Apocalyptic" Metal genre!
Deconstruct is currently seeking a new front-man to fill the void after original singer Droze moved to another state. MC Droze will be missed and his latest contribution to the soon to be released LP Ashen Empire is nothing short of incredible. "We wish him the best with all his endeavors," says Fraulob. The full-length album has been recorded, engineered and produced by Joe Fraulob, and mixed by top renowned industry pro, Juan Urteaga of Trident Studios (Testament, Machine Head). Management has been secured under Frankie James (Culture Rock). Professional videos have also been produced by Andy Pilkington of Very Metal Art (see video for "Machine" below) and award winning film-maker Josh Pierson and are ready to be released once the timing is right!
The Deconstruct foundation can be traced to guitarist Joe Fraulob's 2001 courtship with Columbia Records, when his prior band, Side-Swipe, was targeted by the A&R team of John Weakland (Union Underground) and the legendary John Kalodner (Aerosmith). Once the label threw Side-Swipe into the mix of different producers and spent upwards of $30,000 on demos, the band knew they were on to something big. Ultimately, Columbia felt the demos that Fraulob produced at his own studio were the best, which gave Fraulob and the band the confidence to trust their instincts musically, and to fight for their own path. This gave way to the birth of Deconstruct with Fraulob writing for his new project to include an uncompromising vision for a new sound – dark and heavy yet melodic and dynamic – ready for the radio, but powerful enough to crush skulls in a live setting. Fraulob recorded the first Deconstruct demo at his own studio the Pus Cavern where Fraulob had spent the last decade developing his engineering chops recording Sacramento heavyweights such as The Deftones and began to send this demo out to industry pros. After hearing the demo, David Draiman and Dan Donegan of Disturbed personally chose Deconstruct as opener for their Music As A Weapon 2 tour where Deconstruct's first show was opening for Disturbed, Chevelle, and Taproot in front of an audience of 5000. Immediately, the band's prowess as a live act was recognized, and Bill Graham Presents placed the band on several amphitheater shows (Iron Maiden, Dio, and Motorhead at Sleep Train Amphitheater; and Def Leppard at Irvine Meadows). While building their reputation as one of the West Coast's most hard hitting live acts, Deconstruct began making headway in the world of Rock Radio. The band's debut EP "Sign Of Things To Come" received play nationwide, enabling Deconstruct to expand their touring base. The work paid off, resulting in more high profile shows with a diverse array of acts including Nickelback, Puddle of Mudd, Drowning Pool, Death Angel, Helmet, and Hed PE. The band's second EP, a sampler of tracks from their forthcoming album, received radio play on over 100 stations. The single "Time Kills" was added to heavy rotation on commercial station WOBX (98X) in North Carolina. Deconstruct also became the only unsigned band to ever receive play on KRXQ in Sacramento's "Smash or Trash" receiving a 100% listener "Smash" rating. Deconstruct was definitely on the rise and was then chosen by multi-platinum act Korn as main stage openers for the Korn, Chevelle, and Breaking Benjamin concert at Arco Arena in Sacramento, CA. After 2 successful U.S. tours promoting the first Deconstruct album The Human Condition, Fraulob joined the legendary multi-platinum act Danzig as touring lead guitarist for an incredible 2 year run after which Deconstruct took a hiatus. In 2017 Fraulob joined the legendary Bay Area Metal group Trauma and ended up producing and recording their 2019 album As The World Dies. Recording and touring with Trauma inspired Fraulob to reboot Deconstruct to record a new album then to follow up with more main-stage appearances. The crushing new album, Ashen Empire, features long-time Deconstruct members Fraulob, drummer Tom Frost, and vocalist MC Droze, with additional appearances by drummers Darren Minter (Heathen) and Kris Gustofson (Trauma), and bassist Greg Christian (Testament).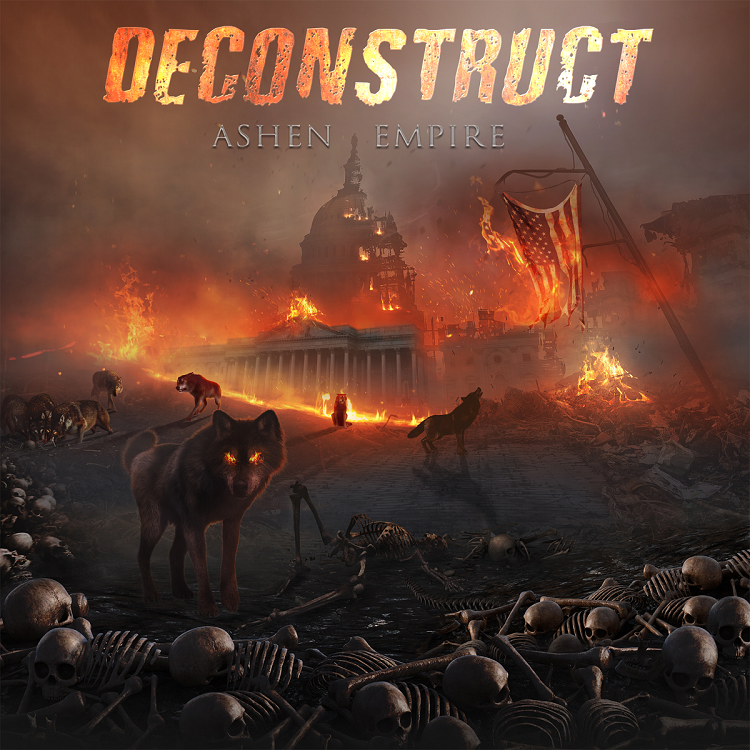 Which brings us to the present, 2021 sees Deconstruct with the strongest, hardest hitting, most talented line-up yet. With Fraulob at the helm with his brutal guitar mastery, the thundering super bassist Bobby Real and one of the best drummers in NorCal, Tom Frost, on board, Deconstruct is firing on all cylinders. All three bring their extensive experience to the table to create a sound that is current but unique, extremely heavy yet mesmerizingly melodic and memorable. There's no doubt success will once again be risen out of the ashes!! A pro studio and practice room has been built, a new album recorded and mastered, extensive press ready to go out and Deconstruct is tour ready!
However, with the loss of their singer MC Droze, this greatness can't continue until that void is replaced, so Deconstruct is now placing a call to action to all professional "qualified & stage seasoned" vocalists to front this dynamically structured band. Qualified applicants respond at the email below to arrange an audition.
Serious inquiries only!! Click HERE to contact!
Deconstruct is:
Joe Fraulob / Guitars
Bobby Real / Bass
Tom Frost / Drums
Vocals / YOU?
Management: FrankieJ@CultureRockMedia.com
Connect with DECONSTRUCT:
Official
Facebook | Twitter | Instagram