IVORY BLUE Releases Official Music Video for "Family Tables"
Kansas City, MO singer / songwriter IVORY BLUE has released the official music video for their newest single, "Family Tables." Directed by Mikal Shapiro, "Family Tables" showcases the enigmatic chansonnier's inimitable vocal style and lyrical strength alongside minimal but moving visuals, thus invoking a deeply emotional as well as an addictively repeatable listening experience. "Family Tables" will be available to purchase / stream on September 7, 2021.
"What is it like if people give you the chance to shine? Sometimes we are underestimated and treated unfairly, but the people that give us the chance, will have the opportunity to see how far we can really fly!" – IVORY BLUE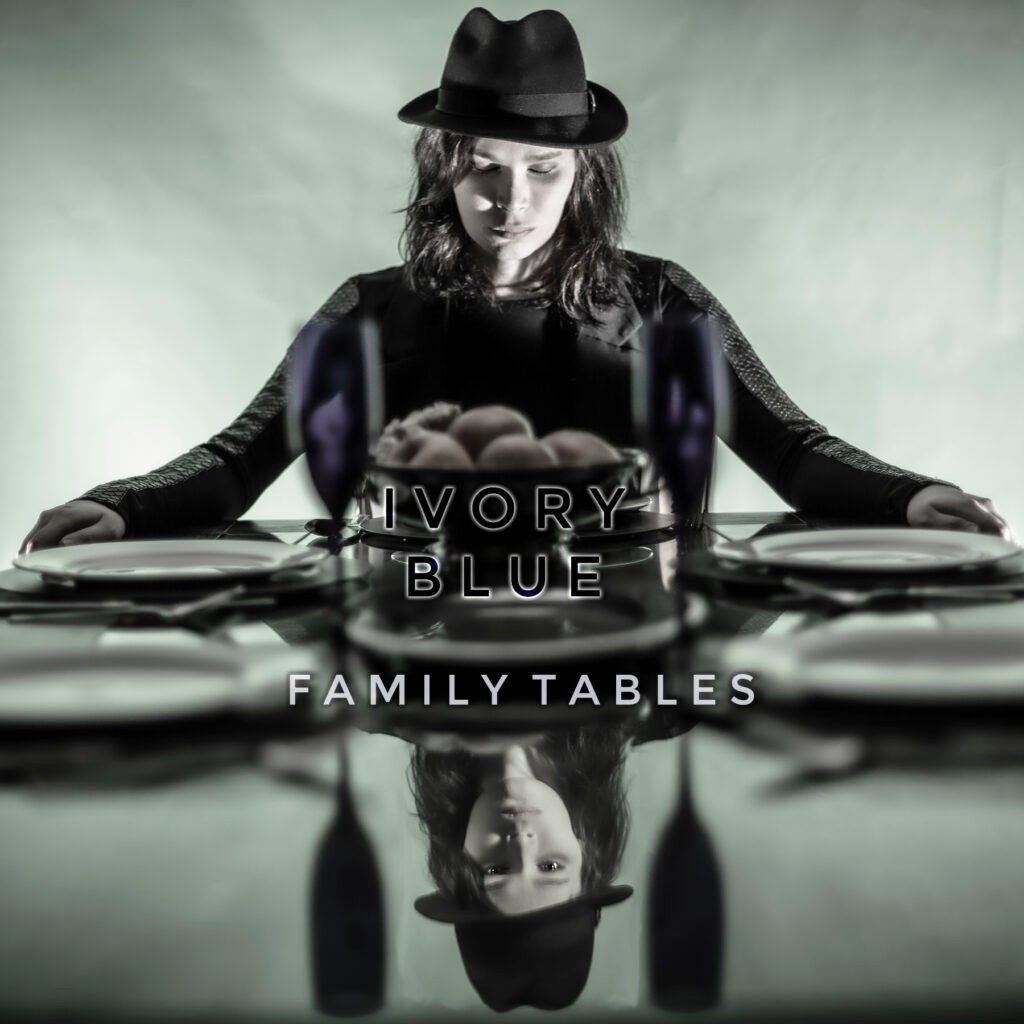 IVORY BLUE lived a nomadic existence until settling in Kansas City MO and becoming part of the local musical community. After winning a nationwide talent contest in 2017 Ivory Blue started having success with some national and international radio play which continues today.
As a multi-instrumentalist, Ivory began refining their performance style, using digital looping pedals to stack harmonies and guitar parts live on stage, giving their solo shows the feel of a full band. In 2011, Ivory settled in Kansas City, MO and quickly began attracting an intense regional following for their strong vocals and incisive, deeply personal lyrics.
By 2013, IVORY BLUE was playing regularly in and around Kansas City and the first EP 'Ready Get Set' was released. in 2015. While the EP helped spread the word and got much attention from regional radio and TV stations, a big break would come in 2017.
Ivory entered NeXt2Rock, a nationwide talent search with over 1800 artists/bands who applied to find fresh and promising rock artists.
The top 5 national bands battled it off for the win in Los Angeles CA at the legendary Viper Room, with judges Scott Borchetta (BMLG), John Varvatos (fashion designer), Steve Jones (Sex Pistols Guitarist and Host of "Jonesy's Jukebox"), Desmond Child (Musician, producer), Chris Lord-Alge (producer), Ivory Blue won over the judges and became the grand prize winner!
Ivory won the contest and a one-year record deal with BMLG who re-released the song "Ready Get Set" from the 2015 EP. Ivory's 2018 re-release of 'Ready Get Set' undauntedly received National and International airplay within weeks.
In February 2020 and after studying the craft of recording and self-producing, this amazing singer-songwriter with soaring vocals, passionate love for everyone struggling through life, released 'Elite Dreamland'. There are no words to describe the incredible artistry behind this song; a single that hits your heart about understanding how it feels to be misunderstood in a world of people that seem to know what they are doing.
IVORY BLUE produces all the tracks with the exception of Drums and Bass. Ivory is currently working with Lester Estelle (Drummer for Kelly Clarkson), Craig Kew (Bass) KC, Kurt Festge (Mastering | Citizen Kane & Vilent Femmes) NC. and Nick Poortman (LA based Los Angeles based Producer, Engineer, Mixer, and Songwriter) Nick has worked alongside producers including Justin Gray, Gil Norton, Big Tank, and Greg Haver on sessions throughout the USA, UK, Europe, and New Zealand.
On August 18th 2021 Ivory Blue signed a publishing deal with Sound Ballistics Music & Publishing out of Atlanta GA.
Ivory Blue released their music video for "FAMILY TABLES' on August 21st, 2021 and will release the single on Sept 7th. They are currently finishing the first full length CD/Album Compound Love to be released in 2021 as well as the Red Light EP for 2022.
Who knows what is next for IVORY BLUE, but so far every step has been accounted for to reach that vision that continues to push them to success.
Connect with Ivory Blue:
Official
Facebook | Twitter | Instagram